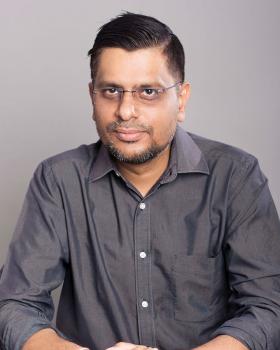 Abhishek Mishra will be the primary architect and developer for the project.  He will also be responsible for System Administration.  For over 9 years, he has worked with Elemental Methods in the development of server side and mobile applications. 
Mr. Mishra has over 20 years of experience in building highly integrated enterprise level applications and has worked with several Fortune 500 companies.  He has worked for customers in Financial Services, Investment Banking, Manufacturing and Process Automation.
Abhishek Mishra has led the development of most of the Marine research projects at Elemental Methods including Angler Action Program, SAFMC MyFishCount, NOAA Shark Bottom Longline Project.
His technology expertise includes programming with frameworks and libraries using PHP, Java, Groovy, Python, Swift, Flutter, Dart,  Drupal, HTML, CSS, JavaScript, SQL, NoSQL. He has immense experience in working with Drupal – a leading content management system recommended for this project.
He also has experience in building "Smart Systems" using Artificial Intelligence, Deep learning, and Machine Learning tools and frameworks.
Since last 4 years, Mr. Mishra has been leading the development team for the MDMR – Tails n' Scales application. With his expertise, the application has evolved from a Red Snapper only application to a multi-species, interactive and highly configurable system.
Mr. Mishra has also headed the development of Elemental Weather application which provides current conditions, predictions, Tide information, data from buoys and river gauges. His familiarity with weather models, NOAA NWS integrations, Satellite imagery will be very helpful in developing this project.
Mr. Mishra is currently working on an enterprise rules engine for the South Atlantic Fishery Management Council - "MyFishCount" application.  The rules engine will be used to ensure data accuracy and perform outlier analysis.
Mr. Mishra has a Master of Science (MS) degree in Physics from Ranchi University, India along with several industry certifications. Previously, he has worked at Wipro Technologies, India and at IBM India.